Forty years ago, Caterpillar rolled out 10 pilot models of the D10, the world's largest and most powerful bulldozer and the time, and one equipped with an elevated sprocket design that would change the face of the dozer market.
"We bucked conventional wisdom with the D10 and tinkered with a centrepiece that was a part of the Caterpillar product line since the company was formed in 1925," says George Alexander, a retired Caterpillar engineer and one of four individuals named on the patent for the elevated sprocket.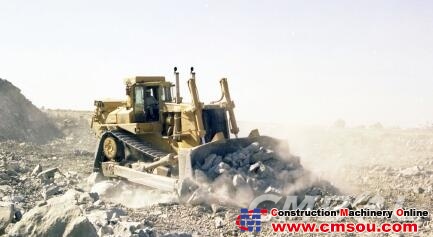 Weighing in at 86 tonnes, and measuring 4.6m tall, 3.7m wide and 9.4m long, the result was a unit with unrivalled power and productivity, and one that answered the growing calls from large mining and big heavy construction operations for a more powerful dozer.
The Cat D10's power was supplied by a 522kW (700hp) D348, V12 diesel engine, and delivered 50% greater productivity than Caterpillar's previous largest dozer, the Cat D9.
The impetus for the development of the D10 was a changing industry in the late 1960s and early 1970s that stretched the productivity limits of the D9, and led contractors working in hard rock applications to demand a design that improved track longevity and durability.
"The D9 dozer was the best track-type tractor of the day," explains Alexander. "It worked great for dirt operations, but interstate and heavy rock applications were hard on the solid bottom tracks that were a part of all dozer designs of that era."
So, Caterpillar tasked a team of research and engineering personnel to develop a model with more power and productivity, as well as a modular design that would simplify the maintenance and transport of the machine.
Through the research process, it quickly became evident that a new track design and improved undercarriage were needed to meet the production and durability goals for the new dozer.
With management approval in 1970, a test bed was built for the new track, and engineers started by flipping the final drive for a D9G upside down. "We worked on undercarriage geometry a lot, and within six months we had it operational," says Alexander.
By separating the drive sprockets from the track roller frame and elevating them above the tracks, more track remained on the ground for improved traction. The elevated sprocket design was also better able to absorb ground shocks for longer life and greater operator comfort.