Manitou Group has launched two rotating telehandlers, the MRT 3050 and MRT 2470, with chassis that incorporate newly-designed counterweights that have increased the stability and therefore the lifting capacities of the machines.
Designed for heavy high-rise construction work, the MRT 3050 has a maximum lift height of 30m and a maximum lift capacity of five tonnes, and is equipped with a two-ratio hydrostatic transmission that give the unit a top speed of 40km/h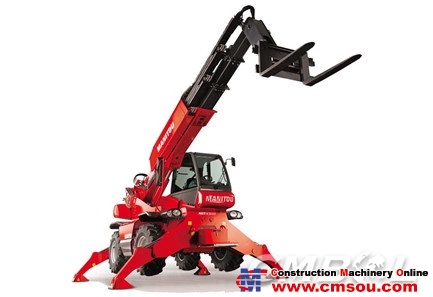 The MRT 2470 meanwhile has a maximum lift height of 24m and a maximum lift capacity of seven tonnes – the largest in the segment, according to Manitou – with a hydrostatic shift-on-fly transmission for either manual or automatic operation, with again a top speed of 40 km/h.
The machines have 6.25m-long stabilisers, and a strain gauge system that ensures more accurate and secure detection of the pressure of the stabilisers on the ground – with a dashboard display to follow the deployment procedure.

For indoor applications, a dual-energy engine with an electrical system is also available as an option to reduce noise and engine emissions and ultimately lower the total cost of ownership (TCO).
The group has also developed a continuous rotation fork carriage, the CAT 1200/4000 R that, with its 360° rotation, increases productivity by reducing movements when handling aiding the placement of long loads.
It has a width of 1.2m for a front loading capacity of four tonnes, and capacity of 2500 kg when the angle of rotation is greater than 15°.
It uses attachment recognition, a CAN-bus rotation sensor and built-in software. The position and weight of the load, as well as the fork rotation angle and position are checked several times per second. The system also prevents overloading and lowering of the forks when the angle of rotation is greater than 90°.
Manitou has also developed a new aluminium extendible rotating aerial work platform basket, the PSE 4200 / 365 ALU, for MRT telehandlers. The whole body of the basket is made of aluminium, while the rotator is still made of steel. This provides a weight saving of 150 kg, while maintaining a loading capacity of 365 kg including three people.