Calling the machine a "right-sized" loader, Caterpillar has introduced the 986K as a replacement to its legacy 988F.
The 986K weighs less and is shorter than Cat's 988K loaders and the company says the machine is perfectly matched to load Cat 40- to 61-ton articulated and rigid-frame trucks. A new Aggregate Handler configuration features an 11-cubic-yard bucket with additional counterweight for high volume loading of highway trucks in fewer passes.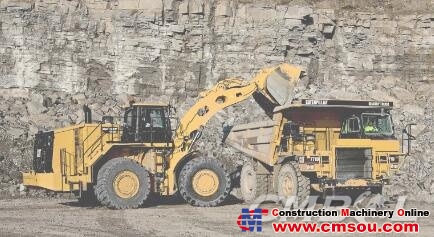 The machine also features a redesigned cab with Cat STIC steer and Cat's Production Measurement system.
STIC steer and operation
Control of the 986K is carried out through Cat's STIC steer control system. STIC steer combines directional selection, gear selection and steering into a single joystick and Cat says the system requires less operator energy output compared to steering wheel-based control and thus reduces operator fatigue.
The machine is powered by a Cat C15 ACERT engine delivering 373 horsepower. (More specs listed below.) The Tier 4 Final power plant features auto idle shutdown for increased fuel efficiency. Load sensing hydraulics optimize performance by directing hydraulic fluid flow only when needed.
In terms of operation, the loader features a Z-bar linkage and Cat says the machine delivers four-pass loading of the 740 and 745 articulated and 770 rigid-frame trucks. A high-lift configuration delivers five-pass loading of the 772 and six-pass loading of the 773 rigid-frame trucks.
New cab
Cat says the 986K's completely redesigned cab will make operators more comfortable and productive. Entry is possible via left- or right-hand stairs that feature a reduced 45-degree angle. The STIC control armrest folds up for quicker entry.
Isolation cab mounts and an air suspension seat reduce vibration while the pressurized and sound-suppressed structure reduces noise.
The control interface has been designed to be simple and intuitive with ergonomic switch placement. Large front and side windows offer improved visibility.
Tech
The 986K comes equipped with Cat Production Measurement which offers real time payload measuring, allowing operators to reduce under- and overloading.
Meanwhile, Cat's Product Link telematics offer remote monitoring of machine utilization, fuel consumption, payload summaries, scheduled service reminders and fault code alerts.