Bobcat has launched the 1.7-tonne E17Z mini excavator model with a 'zero tail swing' (ZTS) canopy, completing its range of one- to two-tonne compact excavators.
The E17Z has a standard operating weight of 1,749kg and a maximum digging depth of 2249 mm, and comes with most features associated with the weight class, including a retractable undercarriage.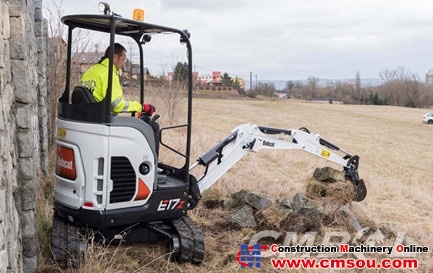 As the name suggests, compact excavators that deliver zero tail swing are designed in such a way that the rear elements of the cab do not protrude out from the footprint of the operating machine.
In the case of the E172, this ZTS functionality is taken a level further using Bobcat's zero house swing (ZHS) design, which also keeps the front upper structure within the swing circle of the fully expanded tracks.

As a result of this ZHS functionality, the E17Z provides a full 320° of free rotation when working close to walls and other obstructions, without sacrificing on operator comfort or performance.
The E17Z also incorporates the architecture of the hydraulic system on the larger Bobcat E20 model with a combination of variable piston pumps and a gear pump.
According to Bobcat, the boom and arm cylinder cushioning on the machine are unique in this class, and enhance the overall smoothness of the workgroup.
For the operator, the cab combines high visibility with a range of ergonomic features, including a left hand control console that lifts completely out of the way and the ability to fold the pedals completely away to increase room for the operator's feet.
The E17Z also offers auto engine shut-down, auto cab lights switch-off, an audible alarm in case of malfunction, and a battery kill switch to help prevent battery drain when storing the machine as well providing an effective way to prevent theft.