Doosan Bobcat has extended its offering of quick couplers, which allow operators to change non-hydraulic attachments without leaving their seat, with the launch of a hydraulic pin grabber coupler for attachments used on seven Bobcat compact excavators from the E25 up to the E55.
The Bobcat Hydraulic Coupler is available both as a factory installed option and as an aftermarket product for use with all the pin-on fitting attachments for the E25 to E55 excavators.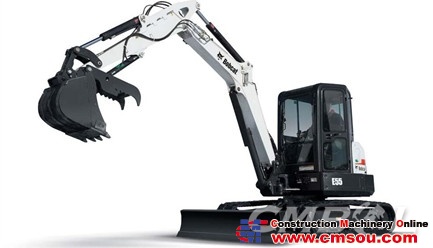 A key feature and benefit of the quick coupler is its triple lock design, which exceeds the ISO 13031 safety norm and complies with all European and most international safety standards in the industry.
The controls are incorporated within the operator area, so there is no need for additional controllers, switches, displays, hoses and/or wire harnesses to be connected, and the system is compatible with the full range of mechanical couplers from Bobcat, including Klac and Lehnhoff systems.

The proven and tested design has no greasing requirements and very few moving parts with no maintenance requirements (other than the daily inspection), guaranteeing a hassle-free coupler.
Its robust yet compact design has few components and ensures maximum breakout force.
The pins in the system are under constant pressure from the hydraulic cylinder ensuring the attachment is tightly gripped, even when there has been pin wear over longer term use.
In the unlikely event of a hydraulic cylinder failure or hydraulic pressure loss, two powerful springs are activated as an additional operational safety feature to ensure that the attachment will remain securely connected.
At the same time, front and rear locks ensure the attachment remains in position at all times, while a 'curl to release' safety protocol is an additional step to release the attachment in a safe position.
A bucket, for example, must be in the fully curled in position, locked on its hooks with the front lock, to allow the changeover process to start.
With the pin grabber coupler, the operator can operate the bucket in both the normal position and in the reverse position, without any modification or extra components, for greater operational flexibility.