As the acceleration of overseas markets developing pace, more and more LISHIDE excavators are active in local construction work of the "Country of Thousand Islands" -- Indonesia. Recently, LISHIDE's service engineers came to Indonesia and visited the customers who were doing construction work in Sulawesi island.
Indonesia is one of the main nickel minerals exporting countries in the world. And Sulawesi island is an important origin of nickel minerals, Which is rich in nickel reserves. In recent years, with the economic development of Indonesia and surging global demand for nickel, the development pace of Nickel continues to accelerate. Mr. Huang, one customer from Taiwan China, is developing nickel minerals in Sulawesi island.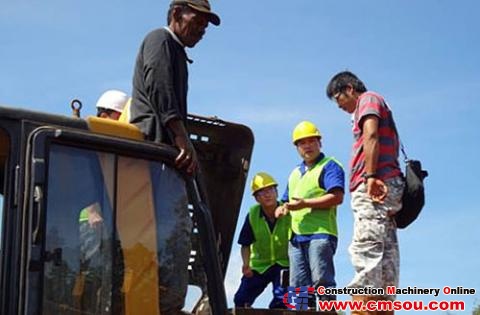 Mr. Huang is one of the loyal customers who has 18 sets of LISHIDE excavators. These machines are mainly SC220.7 , which are used for exploiting nickel at construction sites of Sulawesi island. Sulawesi island is mountainous and with rugged roads. After 13 hours trekking, LISHIDE service staff eventually arrived at the site and were warmly greeted by Mr. Huang. After a careful inspection and serious maintenance for the excavators, LISHIDE service staff gave a detailed explanation on correct maintenance methods and skills to Mr. Huang and the operators.
Mr. Huang said Indonesia was located in the tropics with high temperature and humidity, which was a big challenge to the stability and reliability of the excavator. Since the 18 sets machines were bought and used in many local areas, they have always been in the first-class level both in the performance and stability. Mr. Huang expressed his satisfaction and trust in LISHIDE for their efficient and timely services. LISHIDE has earned customers' trust and confidence by product quality and service quality.
After the visit, LISHIDE service staff and customers took photos together as a souvenir.